Deese Elite Concrete Coatings was established by Buck and Ashly Deese, in 2020. When the future looked dismal for many, they chose to utilize their newfound together time to get back to their roots. As Florida natives, both Buck and Ashly felt a dedication to serve the communities they know and love.
Buck Deese has over 30 years of construction experience under his belt and has an in-depth knowledge of all things related, not to mention a continued desire to learn. There's not a problem he can't solve.
Ashly Deese has a degree in supervision and management and has worked in those areas for most of her career. Her experience, coupled with her exceptional attention to detail, will guarantee that your project is completed to perfection.
In collaboration with the entire team, Deese Elite Concrete Coatings has identified the following as our Core Values: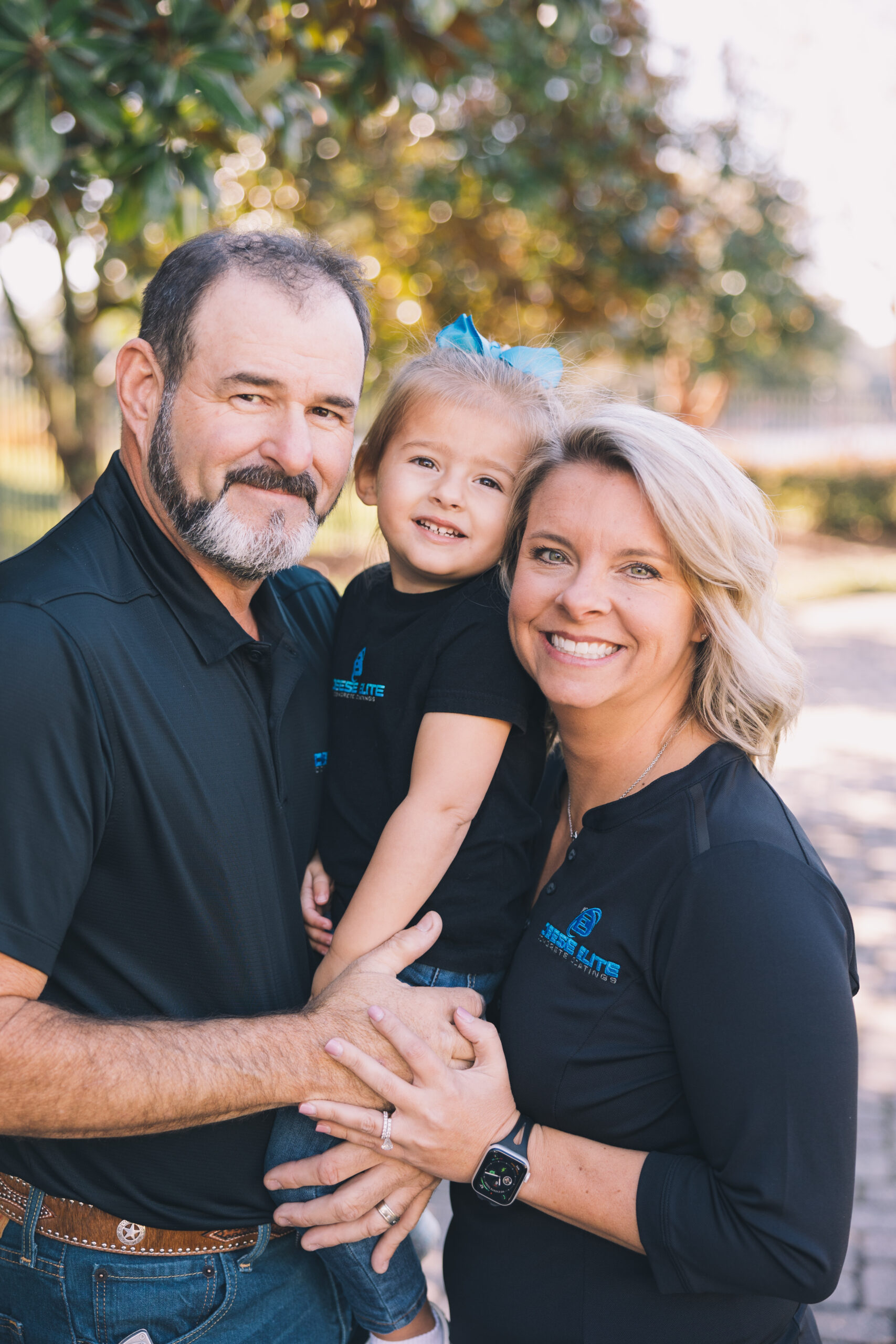 Integrity

Keeping our promises – to ourselves, our team, and our customers.

Innovation

Always seeking to improve ourselves, our practices, and our performance. We are open to new ideas, quick to adapt, and always willing to learn.

Accountability

Taking pride in our work and our reputation. Being accountable to ourselves, our team, and our customers.

Customer Service Focus

We aim for 100% satisfaction with every customer and will not stop until we achieve it. We recognize that every single communication with a customer or potential customer leaves a lasting impression. Every single customer gets our best treatment.

Teamwork

We work as a team to support one another and our mission. We accept and encourage ideas and feedback. We are happy to help our teammates in any endeavors.
Reviews from Our Happy Clients
Betty Jean Lewis
2023-09-23
Your business is all above good quality, good value, professional, responsive, and on time. Joshua and his team were the most easiest people to work with. Joshua answered my questions without any hesitation, and explained a lot to me.
I have a love , hate relationship with my new concrete finish. I love the way it makes my outdoor pool and patio area look. But I hate the fact that now I need to purchase all new pool and patio furniture. I am very happy with the outcome of the work. I did find some issues but with one phone call all problems were resolved.
bonnie schwamb
2023-07-25
I am very pleased with the work that was done at my home. I had my carport, porch and walkway done and I could not be happier. the young men who did the work were very polite and knew what they were doing. Brad who quoted the price was a doll. The only comment I would make is when someone from the office calls, please leave a phone number for someone to call you back. They did this this morning when the called and left a message to see if I was happy. I am in love with the work. Thank you from the bottom of my heart-I highly recommend Deese Elite ☺
Our project included the flooring on the back screened porch and attached patio. We are so pleased with the results. We had a very positive experience with the entire company. Eric was our Design Consultant and was so easy to work with. He gave good advice and didn't rush us through the process of choosing the design. The office staff were very friendly when we talked with them on the telephone. Our Foreman, Kaylin, was great to work with. He made sure we were aware of every step in the process. Due to rain, we had to reschedule a couple of times and the Office Staff and Kaylin made sure we understood the challenges and worked with us to reschedule. When the project was completed, we were even more pleased than what we expected. We highly recommend Deese Elite Concrete Coatings.
I just wanted to share the beautiful job that Deese Elite flooring did on my garage and patio floors today! The job went like clock work , beginning with Eric's free estimate a couple weeks ago to the completion of the job this afternoon. A special thanks to Dwight, Vernon and Robert, who worked efficiently as a team to finish everything by 3:30 today. They were personable, efficient, thorough and neat. Everything was cleaned up prior to their leaving. I'm very happy with the finished product and can't wait for the end of the 48 hour waiting period to be able to get settled back in.
From the first visit to measure and discuss installation - thru the amazing job that Marvin and his crew did - to the taping off of the area to keep all off the carport - everyone was professional - respectful - timely - and just plain nice to work with! The detail around all poles is an indication of how exacting they did the work. Highly recommend!! We LOVE our new look 🥰.
Wayne McDaniel
2023-06-12
These guys did a super job on our pool deck, on time, super hard working, and I great product, as a fellow business owner, I also was super pleased with their clean up. Thanks to Marvin's crew, and special shout out to Eric for taking the time and walking us through the project. Highly recommend.
Elizabeth Farris
2023-04-14
I am very happy with my new flooring in my garage and my back patio. I was very pleased with my experience with Deese Elite. Brad was very professional and went over the entire project from start to finish. I was kept up to date and Dwight and Marvin were great! Thank you for making my concrete pretty!